TDA7293 - Not yet tested.
Updated: 10-12-2017
Key specs: symmetrical +/-12-50V supply, 100W in 8 Ohm, 0.005% THD, 50mA quiescent current.
DC offset measured at outputs: - mV (+/-38V supply)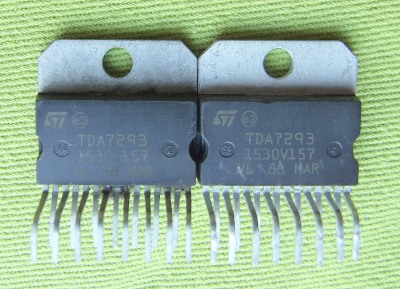 The TDA7293 is the most powerful monolithic class AB amplifier from STMicroelectronics. It is part of a family of single chip class AB amplifiers also including the TDA7294, the TDA7295 and the TDA7296. These four family members have very similar specifications except for supply voltage, quiescent current and maximum output power and it is expected that their sound will be quite similar. They all use power DMOS transistors in the output.
Judged from the THD value of 0.005% the TDA7293 provides audiophile performance.
Copyright &copy 2017 DIYBudgetAudio.com